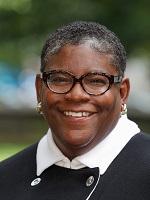 Bronte Burleigh-Jones
Where are you from?
Dorchester County Maryland, on Maryland's Eastern Shore. 
Please describe an experience (or 2) that helped you discover/ cultivate your interest in the mathematical sciences.
The challenge of solving for X has always intrigued me. I can vividly remember my high school advance mathematics courses where our teachers would routinely challenge us to see who could solve the problem first. I loved the competitive nature of the exercises but also the discipline of reviewing what I got wrong and improving my problem solving skills over time.  The challenge was not simply about finding the answer but also having the ability and capacity to explain to others the steps taken to solve the problem.  These opportunities sharpened my problem solving skills and have served me well as a CFO across a variety of institutions. 
What is/are your most proud accomplishment(s) in regards to your career in the mathematical sciences?
As a CFO my role is to ensure the financial stability of the institution.  That said, one of my greatest accomplishments was the development of the multi-year budget model at Dickinson College to include contingency funding and institutional reserves.  The development of these proactive financial strategies and my ability to help my colleagues understand the need for their adoption years before the COVID crisis allowed us to navigate our institutional COVID response with confidence and positioned us to avoid the need to implement any drastic measures.
Notably, at a time when the rating agencies were downgrading institutions across the sector for taking additional endowment draws, implementing mass layoffs or making significant compensation reductions to manage the negative financial impact of the pandemic, Dickinson's rating was maintained at A+. 
Secondly, I would note that I am very proud of my commitment and ability to make higher education finance accessible to members of the campus communities where I have served.  In other words, I have made a point of demystifying how the money moves around the academy and how resource allocation decisions are made.
What is/are your most proud accomplishment(s) in regards to your personal life?
I am very proud of my commitment to mentorship.  As someone who has benefited tremendously from having strong, accomplished, and very dynamic mentors, I have made the intentional decision to actively mentor others.  Whether through my sorority or Divine Nine affiliation, students of color, members of the LGBTQIA community, or those interested in finance or business careers, I make myself accessible.  This is a time intensive decision that I am proud to honor repeatedly.
To whom much is given, much will be required (Luke 12:48). 
Please share some words of wisdom/inspiration.
Advice – Always show up as your best self no matter what the endeavor is–volunteering, class, an interview–because you never know who is watching. I can't tell you the number of times that a door was opened from being at a place where I could never have known that someone was paying attention to me.