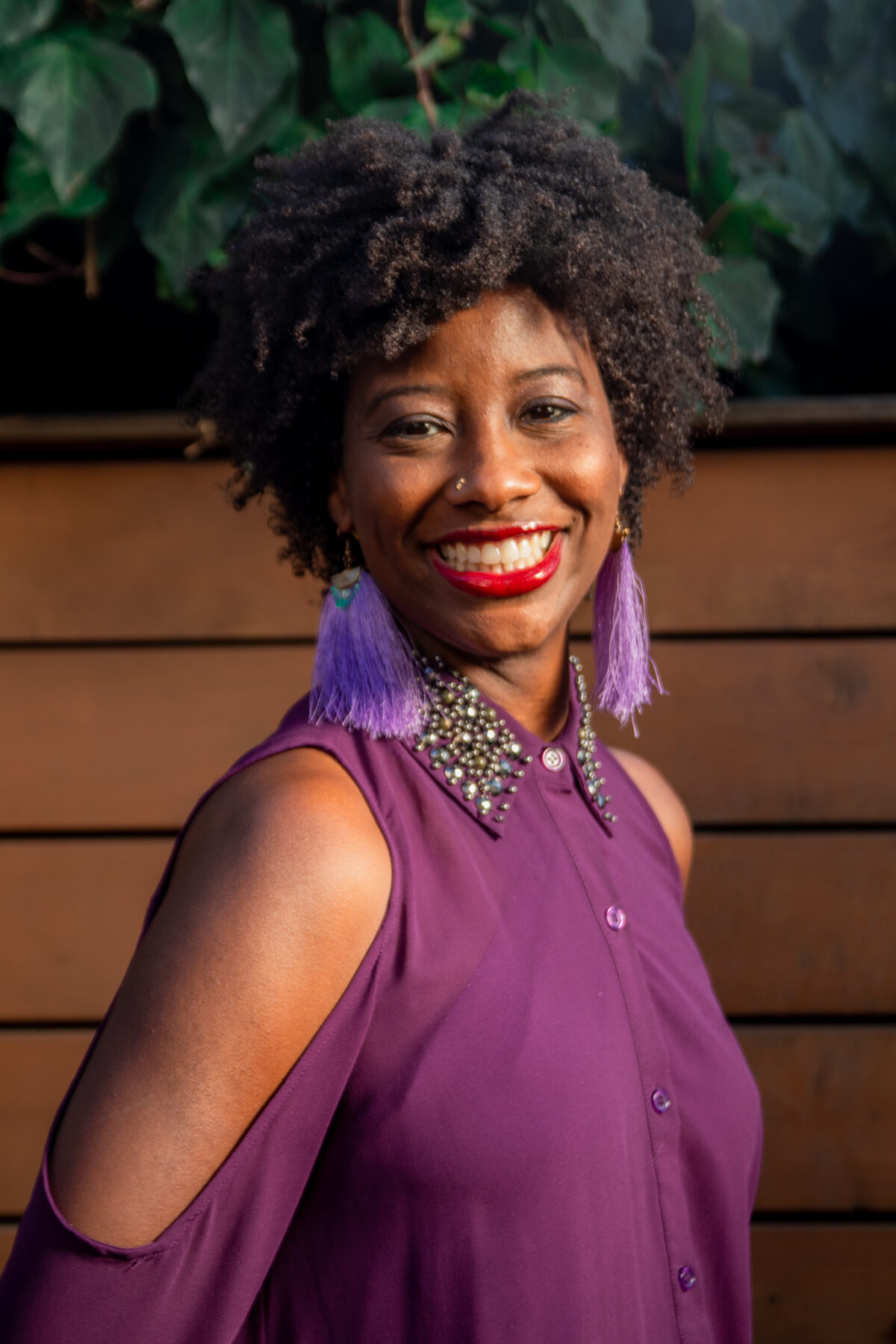 Dani Wadlington
Where are you from?
I'm originally from Chicago, but I've been in the Bay since 2009.  I will always be a Chicago girl at heart, but I do like living in California. 
Please describe an experience (or 2) that helped you discover/cultivate your interest in mathematics.
I have always been in to math.  My grandmother who was a grammar school (elementary school) teacher had this puzzle set, where you would solve these math problems and put the puzzle pieces together, but for each set of problems, the puzzle pieces would create a new picture.  I always loved putting things together and being able to solve a problem.  Math felt like a game to me, and I really enjoyed it. 
What is/are your most proud accomplishment(s) as a K-12 educator?
Some of my proudest moments have come around organizing.  I helped to organize all the schools in my charter network to be unionized. Supporting teachers is just as important to me as supporting students.  What made this work unique though was really centering the needs of Black and Brown teachers through our contract, so making sure that there was job protection for folx, expanding leave to include family by affinity or relation in order to include our aunties and brothers and sisters who may not be biological.  I appreciated the power of community coming together and demanding what is right for both teachers and students. 

Another accomplishment I'm proud of is being a part of an amazing team that wrote a Pathway to Equitable Math Instruction (equitablemath.org/).  I co-wrote Stride 1: Dismantling Racism in Math Education.  That was a labor of love and expertise. I was able to put into writing so much of my own practice and share with other folx our knowledge and experience with disrupting white supremacy culture in math instruction.  This work is just the beginning of something greater, and I am grateful for having been a part of this seed.
What is/are your most proud accomplishment(s) in regard(s) to your personal life?
Two of my proudest accomplishments are starting an education consulting firm and owning a home!

I have had the honor to co-found an education consultation firm with two other amazing educators – Quetzal Education Consulting (quetzalec.com).  It has been a dream come true to be able to impact schools in a different capacity.  I have appreciated the work we do around antiracism and abolition. 

Owning a home in the Bay Area is something I never thought would be possible. But with good planning, amazing support, and being able to do what I love in my role as a consultant, I was able to make this dream come true.
Please share some words of wisdom/inspiration.
Math teachers: Don't let anyone tell you antiracist work can't happen in a math classroom.  We know the world is shaped by math, and it is important to recognize how politicized and colonial math education is.  It is our responsibility to cultivate young minds to embrace mathematics and understand how math can be used to uphold oppression and how it can be used to dismantle it.

Critical Educators of Color: I see you.  Hang in there.  It gets both easier and harder. Our resilience will carry us through, but don't let the reasons for why you need to be resilient dictate your experience.  Be sure to rest and call on your community for support.

To everyone: You cannot do this work alone, so work hard to find and develop your community. A solid community will help you live your best life, allow you to be your authentic self, and call you into accountability when you need it most.  They will love you, support you, have your back, and be willing to tell you the hard things and hold you to growth and accountability.  They will let you have your you time, and will also be there when it's time to connect.  Be sure to do the internal work you need to for you to be your best self to and for yourself and so that you can show up as part of the collective. 
Describe what you do in the classroom to inspire your students.
To inspire students, I let them be themselves.  So much of school is about controlling students – from what they learn, to what they eat, what they wear, how they move if they can even move. And so I strive to give students space to be who they are, to learn who they want to be, and to grow.  I cultivate a culture in my classroom where students can be their authentic selves, which allows them to show up in a way that they don't often get in schools.  And by showing up, they are more willing to take risks, both mathematically and personally.

I give opportunities for students to challenge themselves personally and mathematically.  I try to give students agency by providing choice, advocacy, and safe space to fail.  One of my students said one thing they appreciate about my class is that they don't have to worry about grades.  They can stretch themselves and not worry about being right or wrong as they are learning.  I think that is really key.  I will probably never ever grade homework again because 1) students have repeatedly said that's not helpful, and 2) students appreciate the ability to learn without consequence. I reconsider the way I give feedback so that students have in the moment and ongoing feedback.

I do what I can to make sure that students feel comfortable and safe, and that means not playing into power dynamics between teachers and students.  My students challenge me all the time.  They will call me out if they feel like a task is unreasonable, or they will check me if I need that.  This also means they will tell me to go home if I show up sick, and they will give me grace when I make mistakes.  They will also give me critical feedback, whether that means I'm doing well, or there are shift I need to make.  My classroom is a little community, and I really appreciate the space we build together.