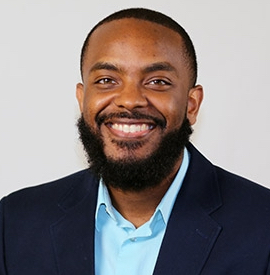 Ira Wheaton Jr.
Where are you from?
I am from Chicago, IL, where I graduated from Simeon Career Academy. I obtained my B.S. in Mathematical Sciences from Florida A&M University, M.S. in Financial Mathematics from Florida State University, and Ph.D. in Industrial Engineering from Florida State University.
Please describe an experience (or 2) that helped you discover/ cultivate your interest in the mathematical sciences.
Math has always been my favorite subject for as long as I can remember, yet I never thought I'd have a math related career. I decided to major in Math simply because my older brother majored in Math. But the one experience that made me sure of what I wanted to become was the time that I spent as a tutor in the FAMU Math Lab during my undergraduate years. It was then that I realized how much I enjoyed helping others understand math and to change their perception of it.
What is/are your most proud accomplishment(s) in regards to your career in the mathematical sciences?
First, I am most proud of obtaining my PhD in Industrial Engineering. When I went to college, I didn't even have plans of going to graduate school. So, to have this achievement is really special. Next, I am proud to have accomplished my goal of becoming a college professor. Now I am able to give back, mentor, and inspire my students in the same way that many professors have done for me. Finally, I am proud to have started my own consulting firm, Wheaton Analytics & Consulting, LLC., where I help small businesses to make optimal decisions that help them save time, money, and resources. This has been a challenging yet rewarding experience that I never thought would happen.
What is/are your most proud accomplishment(s) in regards to your personal life?
First, I am proud to have made my immediate family and friends proud. As the "baby boy" of my family, I have longed to make everyone proud of me. They often remind me of how much I have accomplished at such a young age. This motivates me to keep going. Most importantly, I am proud of starting my own family, with my wife Rika. We have a 2-year old daughter, Mahalia, who is extremely intelligent, inquisitive, and full of E-N-E-R-G-Y! Rika and I take our roles as her parents very seriously, and we make sure to nurture Mahalia and show her the many opportunities and experiences that are available to her, so that she can be whatever she wants to be.
Please share some words of wisdom/inspiration.
My advice is to commit yourself to the idea of being a "lifelong learner". You will be learning new things for the rest of your life. Neither myself nor any of the previous honorees know everything. We all face challenges and want to quit sometimes, but if you keep your thirst for knowledge and improvement alive, you will remain motivated to persevere through the obstacles. Every time I am faced with a new challenge, I remember that it is not supposed to be easy and that I like to learn new, difficult concepts. If I spend enough time with a given topic, I know that I can learn and apply it. I am a lifelong learner.