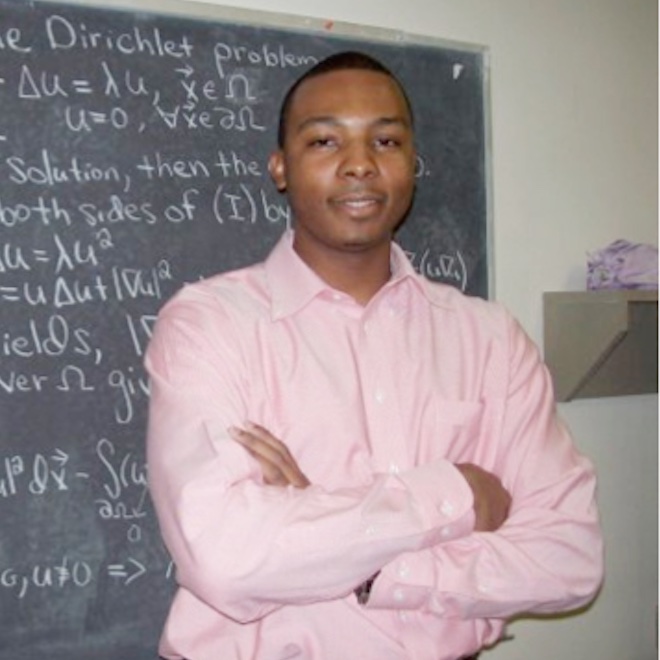 Jahmario Williams
I am from a small town in Mississippi called Greenwood which has a population under 15,000 people today. Currently, I live in Houston, Tx and I'm an associate professor of mathematics at Texas Southern University, where I started fall 2013.  I received my PhD in Applied Mathematics from Mississippi State University (MSU) August 2013 and my master's in mathematical sciences from MSU May 2008. In particular, my research area is Partial Differential Equations (PDE). In PDE, I mainly studies the existence and nonexistence to elliptic equations and have some experience with a few programming languages such as matlab and mathematica.
Also, I received my bachelor's degree in mathematics with a minor in Business from the University of Mississippi (Olemiss) in 2006, where I was a member of Pi Mu Epsilon (Honorary math society). While in graduate school, he received "The outstanding Graduate Student Award", "Master Recipient of AGEM (Alliance for Graduate Education in Mississippi) scholar award", and "Faculty Appreciation Award from the James Worthy Bagley College of Engineering Award". Also, I became an Honors' professor in the Thomas F. Freeman Honors College at TSU and won two teaching awards at the college and university levels. I attended a number of conferences and gave talks on my research and have published in several professional journals and submitted to others.
Lastly, I would encourage people not to be afraid of going after their dreams and excepting all the challenges that it comes with because it's the challenges that pushes us to our destiny and purpose in life.