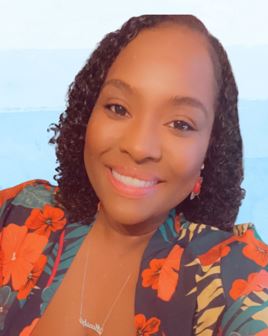 Marsha Lee
Where are you from?
I was born and raised in Miami, Florida but I always have to explain to others that I am a first-generation Jamerican (Jamaican/ American). I have 3 older brothers and 2 sisters, one younger and one older. Both of my parents and 3 eldest siblings hail from Kingston Jamaica and I grew up rooted in the Jamaican culture. I am very proud to be a child of immigrants.  I moved to Atlanta Georgia to finish college and I stayed after graduation making Atlanta my new home. 
Please describe an experience (or 2) that helped you discover/cultivate your interest in mathematics.
My love for mathematics stems from childhood. From a young age, I associated regular everyday things with numbers instead of words. I knew the numbers of the exits on the highway but I couldn't tell you the name of the street. I always enjoyed mental math and solving problems using patterns because to me, I was finding the "easier way" to solve the problem. In eighth grade, my mother went back to college and I played a major role in her success in college algebra. That is when I discovered I have a knack for helping others gain a conceptual understanding of numbers and the reason why (why do we take these steps in a math problem). I pride myself on the fact that my approach was slightly unorthodox and unlike the traditional methods.
What is/are your most proud accomplishment(s) as a K-12 educator?
As an educator and lifelong learner, I am always seeking ways to improve my craft. I am the type of educator that eagerly participates in professional development opportunities because I see this as a way for me to consistently reflect on how I can grow professionally while ensuring that I am delivering best practices to the teachers I train. In the 2021-22 school year I had an opportunity to begin working collaboratively with the Georgia Department of Education on a series of projects where I could share these instructional and content strategies with educators across the state. I served as the 6th-grade Virtual Mathematics Specialist for the state where I was able to provide monthly professional development for teachers based on the new state standards and best pedagogical practices. I also presented at the 3- day GaDOE summer conference, MathCON, as the 6th-grade teachers' content leader.
Another accomplishment that makes me proud as an educator has been my work with the Gates Grant committee. After receiving over $1 million granted by Bill and Melinda Gates Foundation, Clayton County Public schools, Georgia State University, and Curriculums Associates partnered to improve middle school mathematics across the school district. Through the grant, I have had the opportunity to coach principals, assistant principals, academic coaches, instructional support teachers, and teachers on best practices, standards-based instruction, data analysis and data-driven instruction, and other essentials. Also, the work with the partners allowed for me to grow professionally and personally. 
What is/are your most proud accomplishment(s) in regard(s) to your personal life?
I am an avid traveler and if I could spend all my money on a plane ticket, I would. I love to experience new places, people, and cultures. I am proud to say that I have traveled to 21 different countries around the world and 20 different states in America. I love getting an opportunity to learn new things directly from the source.
My most proud accomplishment is being a working mom. My daughter Madison has brought a peace and sense of reason to my life.  She encourages me to be better daily and my will and strive for success will always be focused on her well-being. Being a mom has helped to refocus my life and allowed me to accept who I am as a professional. 
Please share some words of wisdom/inspiration.
I have great faith in fools; self-confidence my friends call it.  – Edgar Allan Poe
This has been my favorite quote since I was around 13 years old. No matter when you fall short and feel like a fool, remain confident, remain poised and you will see the outcome will forever be favorable. Always believe in yourself… if you don't, who will?
In this great future
You can't forget your past — Robert Nesta Marley
The world is yours. Look ahead, plan ahead, but always give respect and pay homage to where you came from. No matter what you are running away from do not forget that everything you have been through makes you exactly who you are today. Embrace your past but prepare for your future.