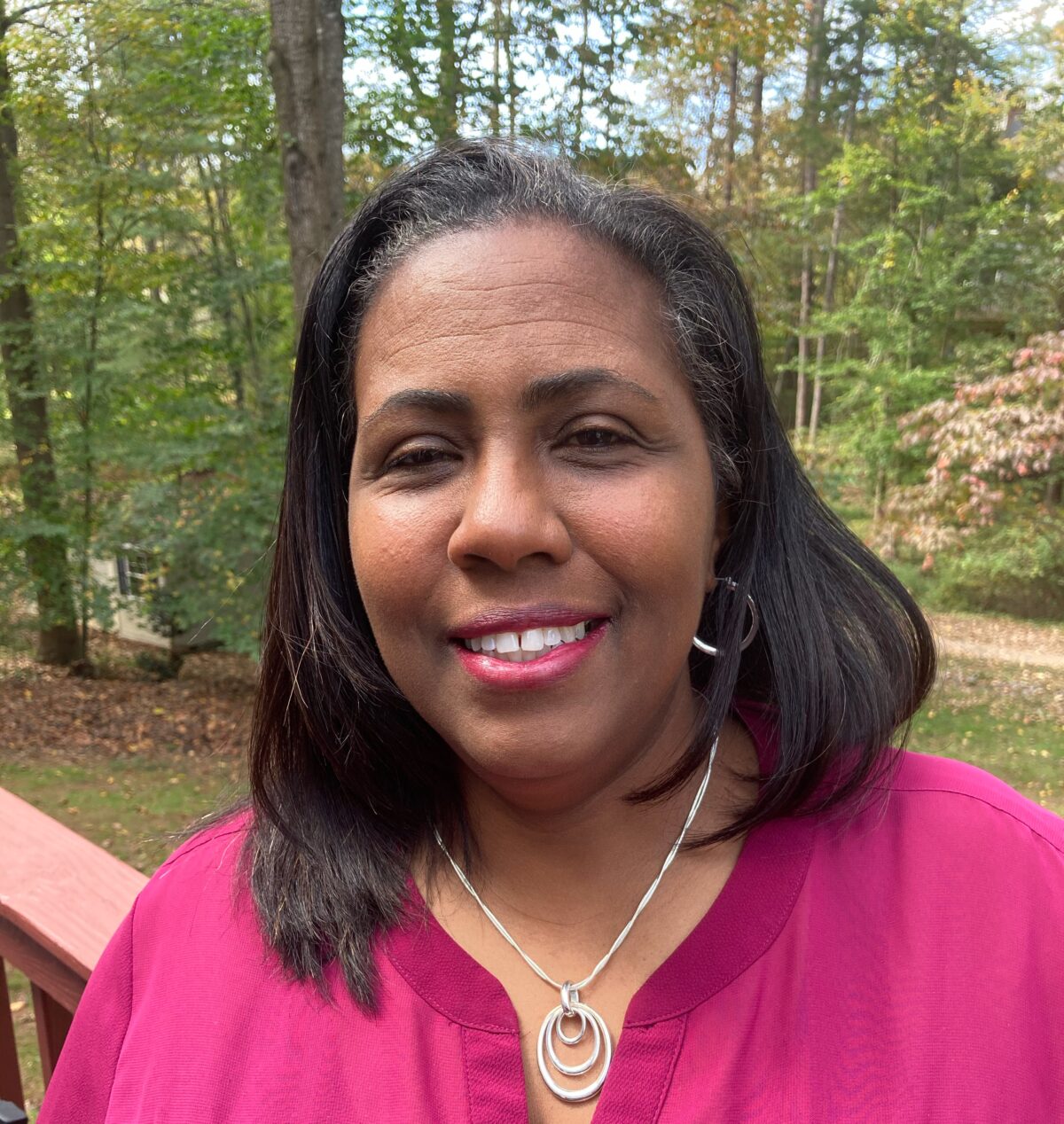 Michelle Berry
Where are you from?
My hometown is Carrboro, NC.  But I usually say Chapel Hill since most people have never heard of Carrboro.  I attended High school at Hillside High School in Durham, NC.  I received a B.S. in Mathematics Education from North Carolina Agricultural and Technical State University (1992) and a Master in Education from Old Dominion University (2007).  I started my teaching career in Newport News, VA.  But have since worked in several different school divisions between North Carolina and Virginia.    
Please describe an experience (or 2) that helped you discover/cultivate your interest in mathematics.
1) My father owned a small convenience store. I loved to sit and watch him work.  I watched him count out change and was amazed at how quickly he could count out five or ten dollars in quarters.  When younger kids came into the store to buy candy, I would watch my dad teach a math lesson.  He would tell the kids how much the candy cost then help them figure out how many pieces they could buy.  He would help them count out the handful of money that would plop on the counter.  
2) My high school math teacher (Ms. Cathy Lynch) encouraged me and other classmates to challenge ourselves in math.  She taught Trigonometry and Calculus. In the summer after my junior year of high school, she had several of us take a math class at the local college.  She said it would help prepare us for Calculus our senior year.  Taking that college course helped me know that I was capable of doing math. 
What is/are your most proud accomplishment(s) as a K-12 educator?
I am proud that I have completed twenty-nine years of teaching math at the high school level.  In that time, I have taught everything from Introduction to High School Math through PreCalculus. I am also proud of the different programs that I have taught during my career, like Pacesetter Math (VA) or Integrate Math (NC) or supporting AVID students in the math classroom.  I have worked with student teachers and served on the editorial panel for the Mathematics Teacher, a journal published by NCTM (National Council of Teachers of Mathematics).
Describe what you do in the classroom to inspire your students.
I want all my students to find success in Mathematics.  I want them to have confidence that they are capable of doing math.  That it is ok to make mistakes and that making mistakes is how we learn.  I try to celebrate accomplishments big or small.  
What is/are your most proud accomplishment(s) in regards to your personal life?
I have been married for 27 years and have two sons.   My oldest is a graduate of The College of William and Mary and the youngest is currently a junior at Old Dominion University.  
Please share some words of wisdom/inspiration.
Be kind, be patient and be honest.  I love math. That does not mean all of my students love math. Give students time to develop their thoughts and ideas. Allow them to make mistakes but be there to support them in finding solutions.  Each student learns at a different pace. Keep your teaching flexible and be ready to make changes. Every year brings different challenges but that is part of the beauty of teaching.