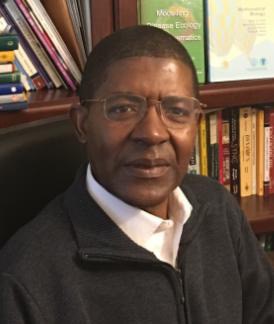 Abdul-Aziz Yakubu
Biographical Sketch
Dr. Abdul-Aziz Yakubu, Professor of Mathematics in the Department of Mathematics at Howard University is a leading researcher and expert in mathematical biology. He has been a Howard faculty member for over 20 years and served as Department Chair from 2004-2014.  On a global scale, his scholarly research focuses on the applications of mathematical and statistical tools to biological problems related to the spread of infectious diseases in humans and animals, and the sustainability of exploited fisheries. Yakubu publishes extensively on these topics in peer reviewed journals such as Bulletin of Mathematical Biology, Journal of Mathematical Biology, Mathematical Biosciences, SIAM Journal of Applied Mathematics and others. As an invited speaker, he has lectured widely about various elements of his research in North America, Africa, Asia, and Europe.
Yakubu has had opportunities to share his work in multiple settings that include the scientific and educational communities. He has held visiting positions at several universities and research institutes including Cornell, the Ohio State, North Carolina State, Botswana International University of Science and Technology, Los Alamos National Laboratory and North East Fisheries Science Center. He has served in leadership positions on several professional mathematics organizations and institutes, including the Society for Mathematical Biology, Mathematical Bioscience Institute of the Ohio State and DIMACS of Rutgers University. He was the Chair of the World Outreach Committee of the Society for Mathematical Biology from 2007-2016.
Yakubu is a strong proponent of diversity and inclusion in the mathematical sciences and of the institutional engagement of Historically Black Colleges and Universities (HBCU) in initiatives that are designed to meaningfully and visibly engage these entities in cutting edge research and educational activities. To date, he has directed six PhD dissertations to successful completion—all from scholars who belong to underrepresented ethnic/racial groups. From 2000–2006, Yakubu taught and directed Undergraduate Research Experience projects at the Mathematical and Theoretical Biology Institute of Cornell University and Los Alamos National Laboratory. In Fall of 2015, in collaboration with Dr. Avner Friedman of the Ohio State University and Dr. Mike Reed of Duke University, Yakubu initiated the Howard University Mathematical Modeling in Biology and Medicine Workshop Series. Now in its fifth year, the workshops have been promoting interdisciplinary collaborations within Howard University and other universities in the Washington DC area.
Where are you from?
Ghana
Please describe an experience (or 2) that helped you discover/ cultivate your interest in the mathematical sciences.
I'm a beneficiary of excellent mentors and teachers from primary school in Accra to my doctoral degree at North Carolina State University. These mentors and teachers cultivated my interests in the mathematical sciences
What is/are your most proud accomplishment(s) in regards to your career in the mathematical sciences?
My proud accomplishments include the six PhD dissertations that I have successfully directed, and the several undergraduate students that I have mentored over the years at Howard University. I'm now directing my seventh PhD dissertation. I have sustained a very active research record with several publications in the top rated journals in Mathematical Biology.
What is/are your most proud accomplishment(s) in regards to your personal life?
Married to my beautiful wife.
Please share some words of wisdom/inspiration.
Once you have survived a storm you won't be bothered by the rain.