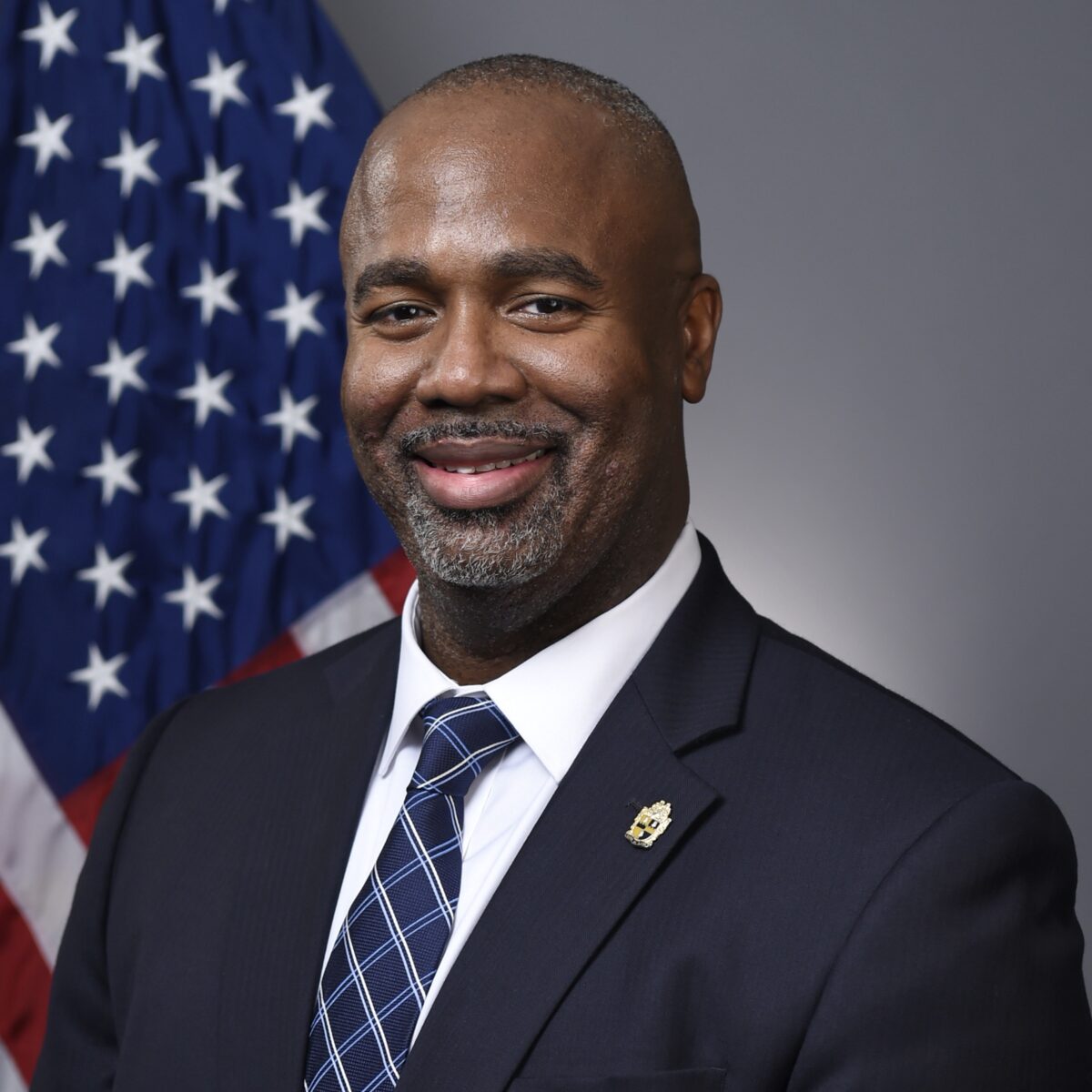 Bryan Williams
Where are you from?
 I was born in Houston, Texas, but I grew up in Missouri City which is located 20 miles southwest of Houston. I graduated from Willowridge High School, earned an undergraduate degree from the University of Houston in Applied Mathematics, and my Ph.D. in Mathematics from The University of Mississippi. I grew up as the middle of three children and my father was a College Professor and my mother was a Dental Hygienist. It was never if I was going to college but where and what would be my major. The importance and impact of having an education was instilled in me at an early age.
Please describe an experience (or 2) that helped you discover/ cultivate your interest in the mathematical sciences.
I don't recall exactly when I discovered my passion for mathematics, nor would I say I ever had an inherent ability to do mathematics. What I will say is that I had wonderful mentors throughout my academic career, and I viewed every obstacle as a challenge to identify and learn from my mistakes.
I began my collegiate academic journey by participating in a pre-engineering program after high school on the campus of Prairie View A&M, (PVA&M), an Historically Black University about 50 miles outside of Houston. That opportunity inadvertently exposed me to Applied Mathematics through the lens of Engineering, although I didn't recognize it at the time. I really enjoyed attending PVA&M, and the Math faculty were nurturing and encouraging. It also gave me the chance to meet and be taught by an African American Mathematician for the first time. As much as I enjoyed my time at PVA&M I made the incredibly difficult decision to transfer to The University of Houston (UH), a school that was closer to home.
After I transferred, I decided to continue majoring in Mechanical engineering because that had been the only major I had ever known.  The engineering curriculum contained several interesting classes, such as Thermodynamics, Fluid Mechanics, and Statics and Dynamics. I enjoyed these classes immensely but did not have a desire to be an engineer and my grades reflected it. As a result, I took time to figure out why I enjoyed those classes and not the major. The common denominator of those courses was that they contained a significant amount of Applied Mathematics. So, I transferred to the UH's Downtown campus, and changed my major to Applied Mathematics.
This was around the time where I began to really enjoy doing Mathematics.  The Math faculty, and my undergraduate advisor, were supportive and very patient with me as I learned what it meant to be a mathematician. From those experiences not only did I gain a strong appreciation for Mathematics, but I also gained the confidence that I could be successful at it. Without that appreciation, encouragement, and support I would not have been able to complete my undergraduate degree let alone pursue a Ph.D. in Mathematics.
What is/are your most proud accomplishment(s) in regards to your career in the mathematical sciences?
My proudest accomplishment regarding my career in the mathematical sciences was earning my Ph.D. in Mathematics from the University of Mississippi. I really enjoyed my graduate school experience; I met and was taught by great professors and had a wonderful advisor. When I completed my degree, I was one of 4 African Americans to graduate with a doctorate in Mathematics from one commencement. It was an honor to be associated with such a history making event that no other American College or University has ever accomplished.  With everything I went through in pursuit of my undergraduate degree in Mathematics, I could have never imagined I would not only earn a doctorate in Mathematics, but also make history in the process.
Another accomplishment I am very proud of was the time I spent with the Naval Information Warfare Center (NIWC) (formally the Space and Warfare System Center (SPAWAR)) Atlantic located in Charleston SC. During my time with NIWIC Atlantic I established and led a Network Science and Social Network Analysis Research group within their Research and Applied Science division. Under my leadership the group secured multi million-dollars in research funding from the Office of Naval Research. The research funding supported novel research findings in Social Networks and Computational Social Science. The research directly contributed to the development of a capability to combat disinformation, social hysteria propagation and group polarization in cyberspace. I felt great joy in contributing to that effort. It allowed me to do what I have always wanted, which is apply my analytical and problem-solving skill sets to make a positive impact on the world around me.
What is/are your most proud accomplishment(s) in regards to your personal life?
The mentorship I received during my academic career was not only influential to my professional career but it was equally impactful to my personal life as well. I wasn't sure what those mentors saw in me, but I know then I wanted to be as good a mentor to others as mine were to me.
My first position after receiving my doctorate was as an Assistant Professor of Mathematics at Hampton University. During that time, I had the wonderful pleasure of teaching some very sharp students. My time teaching at the collegiate level was relatively short but was some of my personally enriching accomplishments in my career. I was excited to have an opportunity to not only teach Mathematics but also instill an appreciation and the joy of Mathematics to those students. Having students that go from saying, "I can't do this", to "Hey!, that's pretty cool, I get it now", and then seeing some of them go to graduate school to pursue doctorates themselves in those areas was extremely enriching. Reason being, I used to be one of those students, sitting in the back, not understanding and afraid to ask questions. I wanted to give the encouragement which was given to me, and I felt as though I was paying forward the mentorship I had received to the next generation.
Some of my most fulfilling work I was engaged with personally was when I served as a special technical advisor to the Department of Navy's Historically Black Colleges and Universities/Minority Institutions (HBCU/MI) Program Director. In my advisory capacity I worked directly with HBCU/MI administration and faculty to connect them to Naval research, development, test and evaluation programs and activities. Most of those programs required undergraduate students to be to include in the research execution which were similar requirements to the pre-engineering program I participated with during my time at PVA&M.
Please share some words of wisdom/inspiration.
With all the exposure to Mathematics I have had through my personal life and professional career there are several words of wisdom that have been common threads through all my experiences.
View each obstacle as an opportunity for you to leverage your skill set(s) and experiences to leave a positive impact. It would have been very easy for me to give up after my plan to become a Mechanical Engineer didn't work out, but I focused on how I could pivot to a better and more fulfilling major and career. Which takes me to my next point, Stay positive through all situations and don't manufacture negativity. It's not worth your time or effort, trust me it will pay off even though it is easier said than done. Finally, Be careful what you do and how you do it you never know who can be watching and can be inspired by your actions or inactions.Role models can come in all shapes, sizes and educational levels.