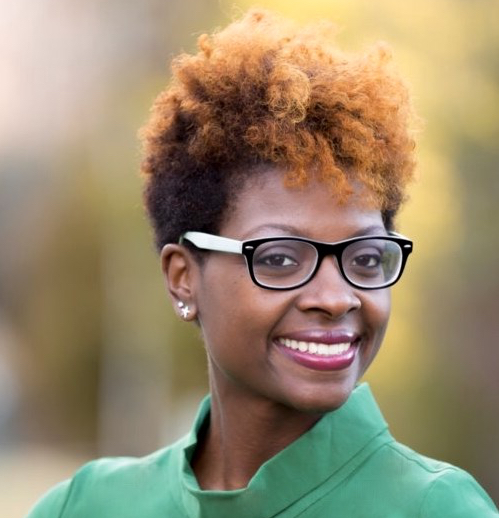 Calandra Tate Moore
Dr. Calandra Tate Moore was born in Pasadena, California but grew up in a small community just outside the city limits of Zachary, Louisiana. She earned a bachelor's degree in Mathematics from the Xavier University of Louisiana and both master's and doctoral degrees in Applied Mathematics from the University of Maryland, College Park.
Having had an affinity for mathematics for as long as she can remember, she recalls being excited about timed math skills tests and mimicking this activity when she would "play school" at home. There were limited math course offerings at her rural high school, thus students who excelled at math would often have to travel to city schools if they wanted to take advanced math courses. Even though she had taken all of the available math classes by her junior year and was encouraged by teachers to pursue this similar path, she opted out and went her entire senior year without any math courses rather than put the burden of logistics and daily transportation to another school on her mother. Because of this, thinking she'd surely be behind her peers, and not having taken Calculus, she registered for a lower-level math class her first semester in college to help prepare. Within the first few weeks of the course, she was pulled aside by her professor and asked not only why she was taking the course, but why she wasn't considering a major in mathematics? Oddly enough, even though she liked math and had an affinity to it, the lingering question was always "but what could anyone possibly do with a math degree?" Needless to say, she registered as a math major the next semester and the rest is history!
Dr. Moore has had a prolific career that exemplifies just how adaptable and expansive a path in mathematics can be. She began her career at the US Army Research Laboratory (ARL), where she spent over 10 years as a mathematician in Computational Sciences on the Multilingual Computing Team. There she functioned as the statistical lead on the evaluation of language technologies with specific attention towards utility evaluation for U.S. government purposes. Additionally, she served as ARL's visiting scientist chair at the U.S. Military Academy in West Point, NY where she taught in the Department of Mathematical Sciences and served as the primary liaison between the Academy and the laboratory for two years.
For the next six years, Dr. Moore was an assistant professor in the mathematics department at The City University of New York's College of Staten Island. There she taught undergraduate and graduate courses as well as conducted research in applied statistics linked to a wide range of interdisciplinary applications including but not limited to health, psychology, biology, text processing, and artificial intelligence tasks. With the rise of the Big Data revolution and the need for mathematically sound data analytic skills, she was recently tapped to rejoin the federal government in a Data Scientist role.
Dr. Moore's proudest career accomplishments in the mathematical sciences come from both the big recognition and the small successes. Everything from joining the yet too small cohort of African American women with PhDs in mathematics and being the recipient her laboratory's Award for Science as well as a Woodrow Wilson Fellow to the first refereed article acceptance has collectively shaped the dynamic nature of her career. Her proudest personal accomplishments are without a doubt, the blessings that are her two young daughters: Eden and Emery, whom she gets the joy of shepherding with her husband and math-mate, Eulus.
If she could impart any words of wisdom and inspiration they would be: Be versatile, Be inquisitive, Character matters, Identify that which you know that you know, and Don't try not to fail but try to have success in failure.