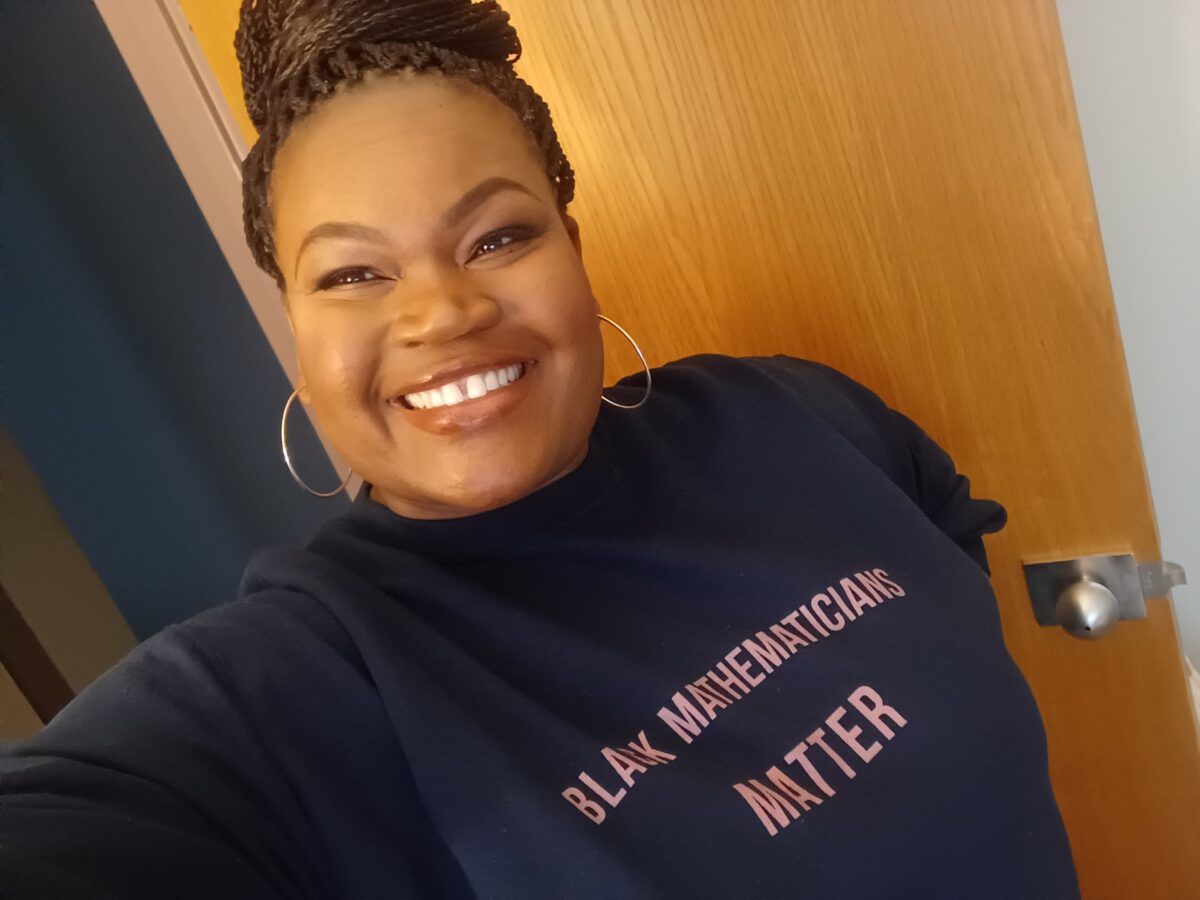 Candice Reneé Price
Where are you from?
I was born in Long Beach, California but grew up in Sacramento, California. My mom, Lauren Price (neé Wilson)  is from NYC and my father, William Dwight Price,  is from North Carolina. They met in Long Beach while working at the same hospital and created me along with my older sister Talya, and my younger brother Geoffrey. My extended family on both sides is wonderfully talented so someone might say I am from a "family tradition of excellence". 
Please describe an experience (or 2) that helped you discover/ cultivate your interest in the mathematical sciences.
When I was a young child, I loved the show "Square One". This was shown on PBS and focused on showcasing abstract mathematical concepts. It showed different vignettes including "Mathman" which was a Pacman-type game, and Mathnet, a detective show like Dragnet. Another experience that stands out to me was learning how to multiply by watching School House Rock videos! "Three is a magic number" is still a favorite of mine. You could say that public television and educational videos were my thing when I was a kid.
What is/are your most proud accomplishment(s) in regards to your career in the mathematical sciences?
A year ago this answer would be different, but this past year I have been recognized nationally and locally for my teaching, research, and service as a mathematician. I am very proud of all of the things I have been able to start or participate in. I am grateful to all the great people I do impactful things with. I appreciate that I am increasing the rate of change in this field, positive second derivative.
What is/are your most proud accomplishment(s) in regards to your personal life?
Externally: Last year I bought a house on my own. I never thought I would be a homeowner and I am so proud of myself for not letting my doubts keep me from realizing this dream. I also co-founded a publishing company, 619 Wreath LLC, with my friend Miloš Savić… and we wrote a book titled "Radical Grace: Essays and Conversations on Teaching". These are things that make me feel like such a grown-up!
Internally: A while back I decided that I am not in competition with anyone but who I was yesterday. I try to reflect on everything in order to grow. I am very proud of where I am now and excited for the future.
Please share some words of wisdom/inspiration.
Sometimes this life is hard, but it is not impossible. Try to do more of what you love every day. Surround yourself with people who speak life into you and those you enjoy being around. And remember: imposter syndrome is a hater, you do not have to listen to it.