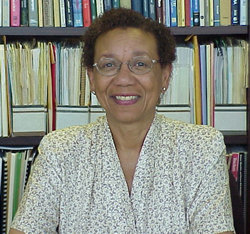 Carolyn Ray Boone Mahoney
Carolyn Mahoney was the 25th black woman to earn a Ph.D. in mathematics in the United States.  She was born and raised in Memphis, Tennessee where she graduated from Father Bertrand High School in 1964.  Mahoney attended Mount St. Scholastica College, a Catholic, women's college in Kansas for three years before finishing her degree in mathematics at Siena College in Memphis, Tennessee in 1970.  She then earned her master's degree in mathematics in 1972 and a doctorate in 1983, both from Ohio State University.
After receiving her Ph.D., Mahoney held academic positions at Denison University, The Ohio State University and was one of the founding faculty at California State University at San Marcos.  Her research focused on the areas of graph theory and combinatorics. She published research on matroids and the Hadwiger–Nelson problem.
In 1994 and 1995, Mahoney served as a program director at the National Science Foundation, and she later worked as Provost and Vice Chancellor for Academic Affairs at Elizabeth City State University in North Carolina. On February 1, 2005, Dr. Mahoney became the 18th president (and 1st woman president) of Lincoln University of Missouri.  She led the university for seven years and retired from this position in 2012.
For her outstanding contributions to the community, Mahoney was inducted into the Ohio Women's Hall of Fame.  Also, a scholarship at CSU San Marcos and a walking trail at Lincoln University have been named in her honor.
Sources :
[http://www.math.buffalo.edu/mad/PEEPS/mahoney_carolyn.html]
[https://en.wikipedia.org/wiki/Carolyn_Mahoney]