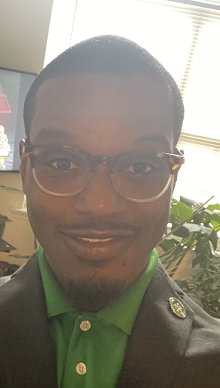 Chartese Jones
Where are you from?
I am from Belzoni, Mississippi. It is the heart of the Mississippi Delta. Also, known as the Catfish capital of the world.
Please describe an experience (or 2) that helped you discover/ cultivate your interest in the mathematical sciences.
When I was sixteen, I got the opportunity to attend a math summer camp at Mississippi Valley State University (MVSU) and that experience changed my life. It was not until I enrolled in college and began taking math courses that I learned that this is what I really wanted to pursue as a career.
What is/are your most proud accomplishment(s) in regards to your career in the mathematical sciences?
I am able to be the teacher I always wanted.
What is/are your most proud accomplishment(s) in regards to your personal life?
I know who I am. 
Please share some words of wisdom/inspiration.
Understanding my purpose has been one of the most adventurous tasks I have been given. Life is fair. I would have to admit to myself that I am like no other person I have ever encountered.  My joy and happiness will light up a room.  I am driven by love, truth, and understanding. I try my hardest to be aware of others and their feelings, and at the same time, I stand firm in what I believe. 
Through God, everything is possible. 
The strength within can be found in all of us. 
We have to believe that we are good enough. 
Love always wins. 
God first!
Chartese Jones, PhD