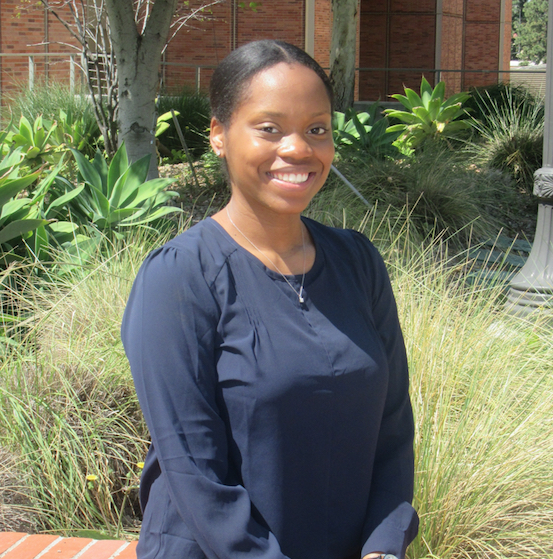 Chassidy Bozeman
Where are you from?
I was born and raised in Little Rock, Arkansas. I received a Bachelor's degree in Mathematics from Clark Atlanta University, and I obtained a Ph.D. in Mathematics from Iowa State University.
Please describe an experience (or 2) that helped you discover/ cultivate your interest in the mathematical sciences.
I can't recall discovering an interest in mathematics because I can't remember a time that I wasn't interested in mathematics. However, the following experiences definitely encouraged me to pursue mathematics further:
When I was a young child, there was a time when my mother was taking night classes at a local community college. She would sometimes take me to the classes with her, and I particularly remember my experience in her college algebra class. I would enjoy solving for 'x', and what I enjoyed the most was how impressed the "grown folks" were with my abilities.
I then started sneaking into my mother's room and into her backpack to get her college algebra textbook. I was excited to show her the problems that I could solve, but not excited to admit that I had been in her things after having her tell me time and time again to stop going through her things! However, I could not resist showing her my work. (Surely this was different than sneaking into her jewelry box, right?) Once I showed her my work, just as I expected, she was very excited and proud, and she encouraged me to practice more of the problems. Once I got into my own algebra class, it was a breeze!
What is/are your most proud accomplishment(s) in regards to your career in the mathematical sciences?
At this early stage in my career, my most proud accomplishment is being 1 out of 3 of the first African American students to be awarded a Ph.D. in Mathematics from Iowa State University (along with Shanise Walker and Michael Dairyko). In addition, I am proud to be a trailblazer for the younger generations in my family by being a first generation college student who went on to receive a Ph.D.
What is/are your most proud accomplishment(s) in regards to your personal life?
My most proud accomplishment is the family unit that I've created with my husband Derek and our 18 month old son Weston.
Please share some words of wisdom/inspiration.
The concept of self-differentiation refers to a person's capacity to 'define his or her own life's goals and values apart from the pressures of those around them.'
Self-differentiation is important. In order to really grow into your own true self, it is necessary to critically analyze any belief or habit that you have (especially those that dictate the majority of your actions). You should determine 1) whether or not the belief was wired into your subconscious before you even had the ability to truly analyze it, and 2) whether or not it is a belief or habit that you consciously want to have. If the belief or habit is not one that you want to keep or identify with, put in the work to rewire your own subconscious through repetitive actions that support the habits and beliefs that you wish identity with. It's liberating and it's worth it!