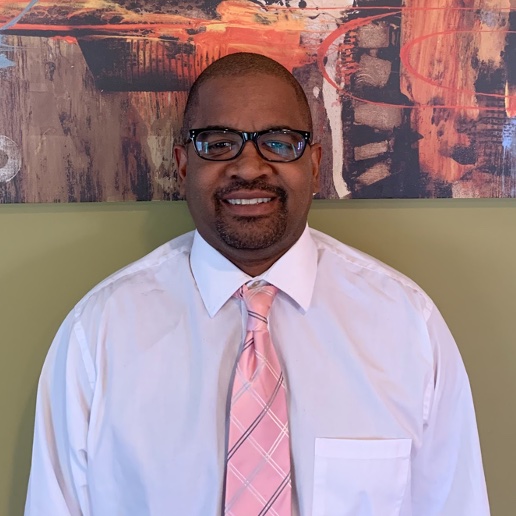 Ishmael Robinson
Where are you from?
I was a Chapter 220 student.  This meant I was bussed from my neighborhood to suburban schools.  Suburbs were a different world from my home in Milwaukee's 53206 zip code.  The 53206 zip code is the most incarcerated zip code in the world.  62% of Black men there are or have been incarcerated.  The impact of the racial and financial inequities I experienced have influenced my life personally and professionally.
Please describe an experience (or 2) that helped you discover/cultivate your interest in mathematics.
As a former struggler but one who persevered, I was always drawn to mathematics.  I liked the straightforwardness of it.  If I knew the formula or the procedure, I knew I could get the answer.  I also received a lot of positive attention and besides athletics, I did not receive a great deal of positive feedback in my school experience.  
As I matured, I realized mathematics wasn't always straightforward.  There was room for creativity and the more creative it was the more excited I became.  I was well into my career when I really understood that more students could learn math deeply if they understood what it was.  I realized I would have been even more successful if I had seen the creativity in math.  I wanted to share this with teachers and learners.
What is/are your most proud accomplishment(s) as a K-12 educator?
I am proud of many things I have accomplished as a K-12 educator.  What quickly comes to mind includes: 
-Data driven decisions
-Teachers writing curriculum
-Closing the achievement gap in Eden Prairie, Minnesota
-Highest proficiency increases in Saint Paul's east side (highest poverty rates, highest EL -levels, most struggling in the district) schools
-Bringing more teachers into mathematics classrooms, including EL and SpEd
-Building and maintaining relationships with former students, educators, and administrators
-Using a task, question, and evidence based approach
-Recognition at a national level for movement toward financial literacy
Describe what you do in the classroom to inspire your students.
-Using topics of culturally relevance
-Using themes of social justice
-Bringing financial literacy
-Being a role model
-Provide Motivation
-Provide Wisdom
What is/are your most proud accomplishment(s) in regards to your personal life?
-Making 6 figures after being surrounded by poverty
-Being a first generation college student
-Helping other succeed
-Coaching people in sports and life
-Helping my sons become secure in their racial identity
-Making my parents proud
Please share some words of wisdom/inspiration.
At the end of the day be YOU!!!