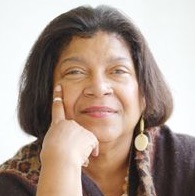 Jacqueline Brannon Giles
I was born in Houston, Texas when a Jim Crow system of segregation of African Americans existed. In my home state "Blacks were excluded from the formal political system until passage of federal civil rights legislation in the mid-1960s" when I was an undergraduate student majoring in mathematics. I wanted to be a mathematician so that I could think strategically and strive to overcome barriers and hindrances to my growth and personal development. I earned four degrees and studied at the doctoral level in mathematics and interdisciplinary engineering.
Dr. Eugene DeLoatch identified my potential to become a professor, because I actually desired to continue working on Wall Street, New York City.
Mr. John Work (his father was director of the Fisk University Jubilee Singers) hired me as a mathematics instructor at the Urban Center in Manhattan, a program administered by the State University of New York – Stony Brook and Borough of Manhattan Community College.
I became politically astute as a result of collaborating with Mr. John Herriford, our AFL-CIO AFCT union representative and by interactions with other discerning professors who taught with me at the Theresa Hotel, in Harlem.
I have traveled to Russia, Nigeria (three times), Tanzania, and Egypt. I am prepared to articulate issues because of my mathematical and verbal skills, honed by my interactions with professionals such as Dr. Jack Alexander, Dr. Johnny Houston, Dr. Don Small, Dr. Jerry Porter and many others.
I am the mathematician who seeks to impart knowledge in academia and in community venues. My gift has made room for me to travel to Russia during the conflict of October 3, 1993 when President Boris Yeltsin bombed the White House in Moscow to disband the hardliners who protested against Russia's attempt to transition to become a nascent democracy in that era. Since Russia is mentioned almost daily on CNN, I consider myself fortunate to have visited the Kremlin, to have seen Lenin's Tomb and to have attended a mathematics conference at the Academy of Sciences in Moscow. Our group of mathematicians with the Citizens Ambassador Program had to stay in the Cosmos Hotel for most of the trip because of the gunfire and conflict.
In August 2000, I travelled with President William Jefferson Clinton in an entourage selected to visit Abuja, Nigeria; Arusha, Tanzania; and Cairo, Egypt. At the invitation of a Nigerian Think Tank in 2001, I was invited to present a research paper on "Mathematics and Democracy" in Abuja, Nigeria, near Aso Rock.
As an ordained minister, I proclaim Romans 12:6-8: "We have different gifts, according to the grace given to each of us…If your gift is serving, then serve; if it is teaching, then teach; if it is to encourage, then give encouragement…." As a result of the village of gifted mentors who imparted into my life, I am grateful to God first and to them. Dr. Ralph Douglas West, Sr., pastor of The Church Without Walls, imparts wisdom to me at this stage of my life. I am grateful!