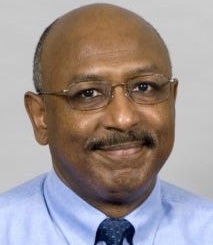 Johnny Earl Brown
Where are you from?
I was born in Norfolk, Virginia, a city 20 miles east of the NASA facility where Katherine Johnson and her colleagues made history and 20 miles west of the Atlantic Ocean. I grew up in a community rich in culture. I graduated from Booker T. Washington High School, earned my undergraduate degree from Lehigh University and my PhD from the University of Michigan under the direction of Peter Duren.
Please describe an experience (or 2) that helped you discover/ cultivate your interest in the mathematical sciences.
I distinctly remember my interest in mathematics was sparked in elementary school when our teacher was explaining ratios and proportions. I had a microscope at home and deduced that if I used two rulers, I could measure objects I was viewing simply by using ratios. I thought I had discovered something no one else knew and began to keep a journal of all the objects I measured. From that time on I kept seeing how mathematics played a role in everything around me and the world. My desire to become a mathematician was cemented early when one of my middle school math instructors had a former student come to talk to us about what he did. He was a mathematician working at Shell Oil Company using mathematics to help them extract oil. He was the most impressive young black man I had ever seen at that point. That did it for me. My high school math instructors were all exceptionally strong black women. All had their master's degrees (and a little beyond) and all were extremely competent. During that era, they did not have many opportunities to teach elsewhere so people like me were the beneficiaries of their talents. They recognized that I had some ability in mathematics and were always 100% supportive.
Back in those days calculus was not offered at our particular high school. During my senior year I picked up one of those 900+ page calculus textbooks in our neighborhood library. The formulas and figures fascinated and amazed me and I told my friends that someday I wanted to be able to work every single problem in that giant book. That wish came true at the end of my second year at college and I never looked back. While others may have had a somewhat circuitous route to mathematics, mine has been a straight line.
What is/are your most proud accomplishment(s) in regards to your career in the mathematical sciences?
It is the variety of firsts in my life that I am most proud. I am the first black mathematician hired at Purdue University and the first to rise through the ranks from assistant to associate to full professor. I was the first black person to head our mathematics graduate program and served the longest tenure of anyone in that position to date. When Rodrigo Banuelos was head of our department, I served as the associate head. This was probably the first time the two top positions at an R1 institution were held by persons of color. I am the first black person inducted into the "Book of Great Teachers" here at Purdue. However, it is with some ambivalence that I am proud of these firsts. Why did it take so long? I should not have been the first in these.
What is/are your most proud accomplishment(s) in regards to your personal life?
I am proud of my work ethic and dedication to my profession. My life is an example that it is possible for a young black kid starting out with few resources can still ultimately achieve some measure of success. Over the years I have volunteered for many programs and activities serving minorities and women, starting from elementary school up to the professoriate. Serving as a mentor and role model are both sources of pride for me personally.
Please share some words of wisdom/inspiration.
By failing to prepare you are preparing to fail – Benjamin Franklin. I find this piece of wisdom more and more important, especially today when it is so easy to become a "that'll do" person. In any endeavor, large or small, give your all.