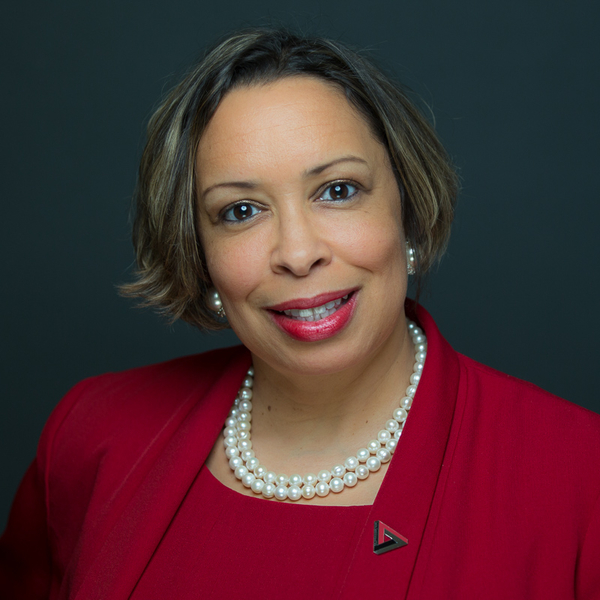 Kim Woodson Barnette
Background: Where are you from?
I am from Los Angeles, CA – Inglewood, to be exact. I have lived in Washington, DC for 17 years, by way of Spelman College and North Carolina State University, but LA will always be home.
An experience (or 2) that helped you discover/ cultivate your interest in the mathematical sciences.
I hail from a family of mathematicians on my mother's side. My mother excelled in math as a child, majored in math education in college, and taught math on the middle school and high school level before retiring as a high school career counselor. My cousin and mentor, Dr. Teresa Edwards, was my advisor at Spelman College. She recommended that I apply for a NASA Women in Science and Engineering (WISE) scholarship to attend Spelman College. Upon visiting the Jet Propulsion Laboratory in Pasadena, CA as part of the application process, I realized all of the ways that a mathematical background could be applied. I was impressed by the space and earth science program at NASA.
Most proud accomplishment(s) in regards to your career in the mathematical sciences.
First, I am proud that I maintained the perseverance to achieve a Ph.D. in Operations Research. The start of my graduate school tenure was a bumpy road. I did not succeed well at all in the School of Industrial Engineering environment at Georgia Tech. Thankfully, I had a strong support system and a portable fellowship as a National Physical Science Consortium (NPSC) graduate fellow. Through the encouragement of NPSC, I swallowed my pride and restarted the pursuit of a graduate degree in Applied Mathematics at Clark Atlanta University (CAU). After obtaining a Master of Science, I continued at North Carolina State University where I achieved a Ph.D. in Operations Research in May 2000.
While at CAU, I was a classmate of Dr. Shree Whitaker Taylor. My second proudest moment was starting a consulting business in 2006 with her and former Spelman classmate, Dr. Afi Davis Harrington. Dr. Taylor and I continue to manage Delta Decisions of DC, LLC and we are now in our tenth year in business. Having the Ph.D. sets us apart as business owners from other Federal government contracting firms. It affirms our positions as analytical thinkers and thought leaders. My degree also allows me to teach on the university level where I enjoy shaping, influencing and mentoring future mathematicians and entrepreneurs.
Most proud accomplishment(s) in regards to your personal life. 
My two daughters, now 11 and 13, are my proudest accomplishments. In them, I see different facets of my personality. Working alongside my husband to ensure that they grow up to be confident, respectful, and caring women is my number one responsibility.
Any words of wisdom/inspiration.
Be intentional. Set goals for yourself and be intentional about a realistic plan to achieve them. Take time out to pamper yourself and maintain a healthy lifestyle. Stay involved in activities that nurture your soul and bring you peace of mind.