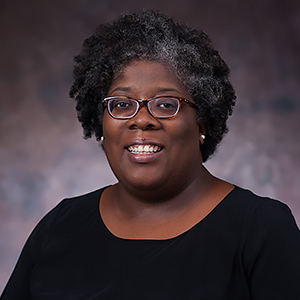 Monica Jackson
Where are you from?
I was born in raised in Kansas City, Missouri.
Please describe an experience (or 2) that helped you discover/ cultivate your interest in the mathematical sciences.
I have always loved mathematics since I was a young kid. I remember in elementary school we would do math races to see who could solve simple arithmetic the fastest. I would play the same game at home with family members. I've always known I would be a mathematician. There was never anything else I loved doing more than math.
What is/are your most proud accomplishment(s) in regards to your career in the mathematical sciences?
I have many proud moments on this journey. The first was completing my Ph.D. It was a very difficult process but I had an excellent support system. We are still very close to this today and continue to support each. Of course, obtaining tenure was just as amazing for me. It guaranteed that I would be able to do this work for as long as I wanted. Now I am most proud to see the next generation coming through the pipeline. I have a passion for training students to conduct independent research. I began my research career when I was an undergraduate student at Clark Atlanta University. I participated in a research experience for undergraduates which solidified my career goal of becoming a researcher which is why I am now invested in developing research programs for undergraduate students. Currently, I Co-Direct the Summer Program in Research and Learning (SPIRAL) where I train undergraduate students how to conduct research in mathematics and statistics.
What is/are your most proud accomplishment(s) in regards to your personal life?
I have always loved to dance. I still dance regularly now. I started taking ballet lessons as a kid and have continued throughout my adult life. Now I take ballet lessons twice a week! It is the best medicine for my soul.
Please share some words of wisdom/inspiration.
Find your true passion. Then do what it takes to make it your career.