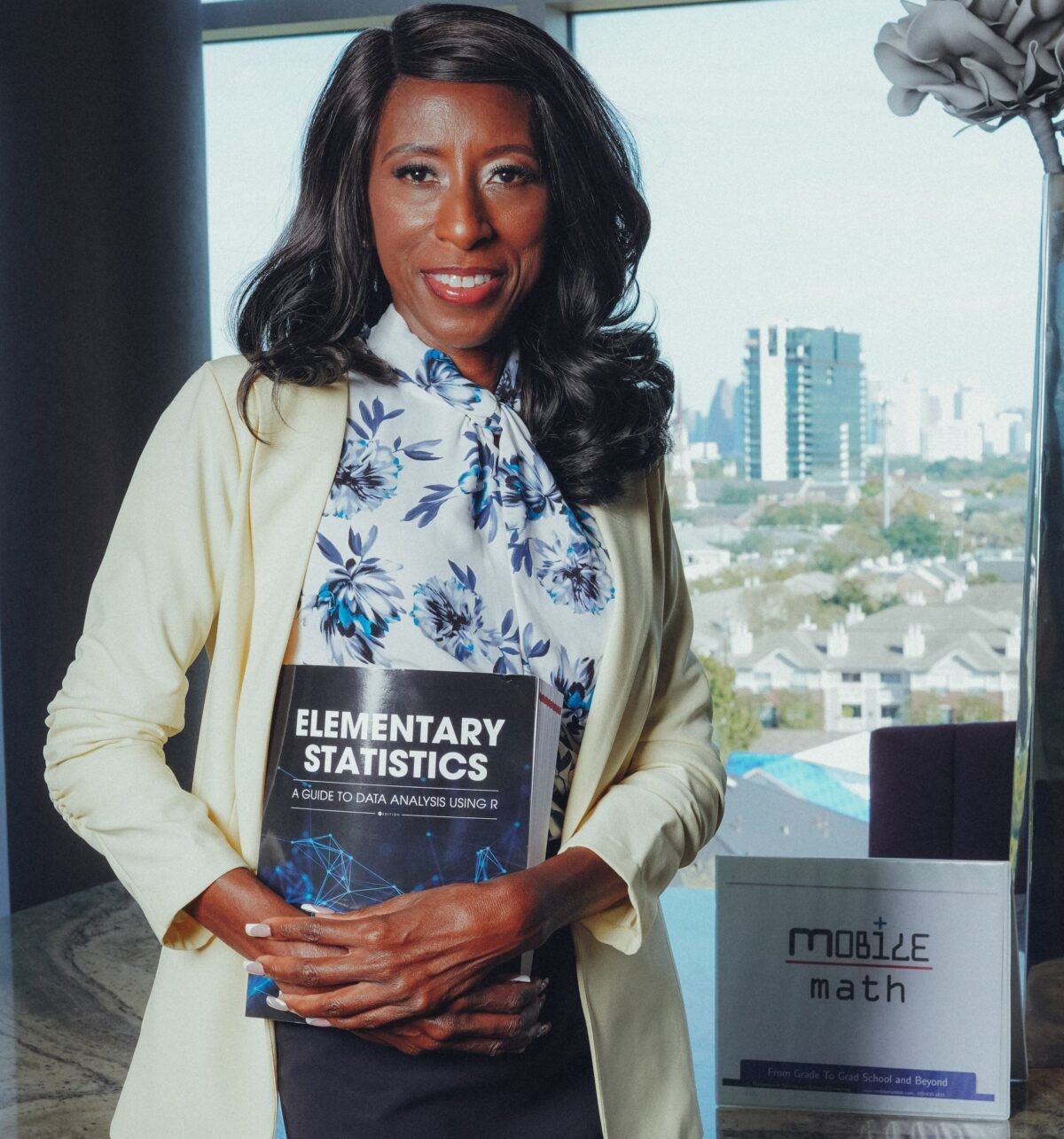 Dr. Nancy L. Griesinger, Ph.D.
Where are you from?
I currently reside in the greater Houston, Texas, area, although I was born in Charleston, South Carolina. My Carolina roots are important to me. I've done the ancestry and traced my family back to the plantation where my grandmother was enslaved and grew up.
Please describe an experience (or 2) that helped you discover/ cultivate your interest in the mathematical sciences.
I majored in math and was a journalism minor because I love both subjects equally. However, I focused more on Mathematics because of the many opportunities in S.T.E.M. (Science, Technology, Engineering, Mathematics).
When I was an undergraduate student working on my Mathematics degree, I often said it would have been nice to have a real analysis tutor. But tutors in university-level mathematics were limited. Therefore, I resolved to start a tutoring business specializing in courses in university-level S.T.E.M. (Science, Technology, Engineering, Mathematics).
In addition to being the C.E.O. of Mobile Math, L.L.C., I'm a statistician, writer, and educator. My first book, "Elementary Statistics: A Guide to Data Analysis Using R" (Griesinger et al.), was published in 2022. It is a textbook for students in a college-level statistics course.
What is/are your most proud accomplishment(s) in regards to your career in the mathematical sciences?
Breaking glass ceilings, living my dreams out loud, and being a history-maker—I'm on a roll! My most proud accomplishments in my career in mathematical sciences are becoming the first African-American to receive a Ph. D. in Statistics from Rice University and being featured in the Smithsonian National Museum of African American History and Culture as a History Maker in Science.
What is/are your most proud accomplishment(s) in regards to your personal life?
The greatest joy in my life is being a mom. When my son was young, I wanted to create a multicultural environment that would lend to his intellectual growth, so I enrolled him in a French immersion elementary school. As a result, he now speaks five languages very well: French, Spanish, Chinese, Japanese, and English (his native language).
My son has grown to be a wonderful young man. At 18 years old, he bravely moved to another country, where he didn't know a soul, to attend college. My only child will start his graduate school journey abroad, majoring in Microbiology.
Please share some words of wisdom/inspiration.
As an African American woman in S.T.E.M., you will encounter many challenges. Some of them will be difficult, and some will be easy.
The important thing is that you do not allow the challenges to define who you are as an individual. Remember PEMDAS? Of course, you do! Well, think of that same order of operations but like this instead.
– Physically: You can't be the best if you don't take care of yourself physically.
– Emotionally: You need to take a deep breath when things get too overwhelming and ask for help when you need it.
– Mentally: You need to be mentally strong to keep up with the boys in the lab and not get overwhelmed during midterm season.
– Determination: This can help you stay focused and motivated to achieve your goals. It allows you to push through challenges and obstacles that may seem difficult or even impossible.
– Achievement: Celebrating achievements can be an essential part of goal setting and achievement-oriented thinking, which can help you stay focused and on track with your goals.
– Spiritually: It's important to know who you are as an individual and what makes you happy so that your life is balanced.