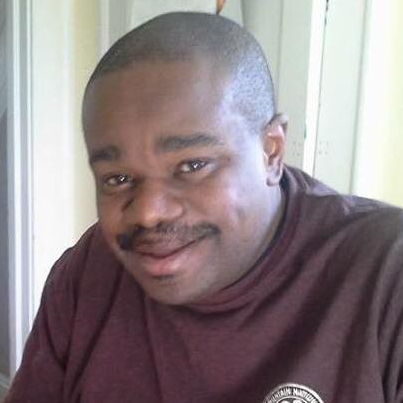 Rudy L. Horne, Jr.
Editor's Note :
Today, we break with tradition and honor someone who recently passed away.  We had plans to highlight Rudy before his untimely passing in December 2017. Rudy was a dear friend and colleague.  He was a big personality with an even bigger heart.  Today, a memorial will be held in his honor at Morehouse College and we would like to memorialize him here as well. 
Thank you for your support.  And as Rudy would often say, "Peace."
~The MGB Team
Young Rudy grew up in Chicago, Illinois. His father, Rudy Sr., worked at a Sherwin-Williams plant, and his mother Carolyn helped operate a day care center.
"Rudy was a brainiac," his brother William said. "He was an avid comic book collector.  We have thousands of comic books from when he was a little boy. Anything that dealt with Marvel, DC, anything to do with Star Wars, Star Trek. Spock was his favorite. He used to try to do the Spock thing and put me to sleep all the time."
The family eventually moved to University Park, and Rudy graduated from Crete-Monee High.  He went on to earn double degrees in Math and Physics from the University of Oklahoma in 1991. At the University of Colorado, he earned a master's in Physics in 1994, a master's in Math in 1996 and his doctorate in Applied Mathematics in 2001. After holding positions at Florida State University, the University of North Carolina at Chapel Hill, and California State University, East Bay, Rudy was hired as an Assistant Professor at Morehouse College in August 2010 where received tenure in 2016.
Rudy was regarded as a "rock star" of math in higher education circles after his brush with fame as the math consultant for the Oscar-nominated film "Hidden Figures."  It was his job to make sure that all mathematical problems used in the film were accurate and historically relevant. His handwriting covers the chalkboard in a scene in which NASA genius Katherine Johnson (played by Taraji P. Henson) solved an equation. Horne received a film credit for his work and star treatment.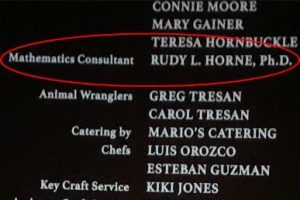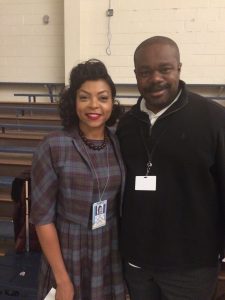 He was quoted in more than two dozen stories about the film, including in interviews with insidescience.org and science.com. He was also a guest on National Public Radio's "Closer Look."
Following the film, Horne spoke on the national lecture circuit at math and science conventions and at special events in higher education. In June 2017, he was a guest speaker at the 23rd annual Conference for African American Researchers in the Mathematical Sciences. In July, he was a guest speaker at the University of Washington and the MAA MathFEST.
As a testament to his ability to inspire young people to find beauty in mathematics, after Rudy's death, actor Lidya Jewett, who played the young Johnson in the film, tweeted, "I just got an A- on my first Algebra 1 test. You told me from the math room on set I could do it. " she said. "And now I really do it! RIP Mr. Rudy."
Sources:
http://www.morehouse.edu/newscenter/morehousecollegemournsthelossofdrrudyhorne.html
https://chicago.suntimes.com/news/rudy-l-horne-dies-at-49-chicago-native-checked-the-math-in-hidden-figures-2/