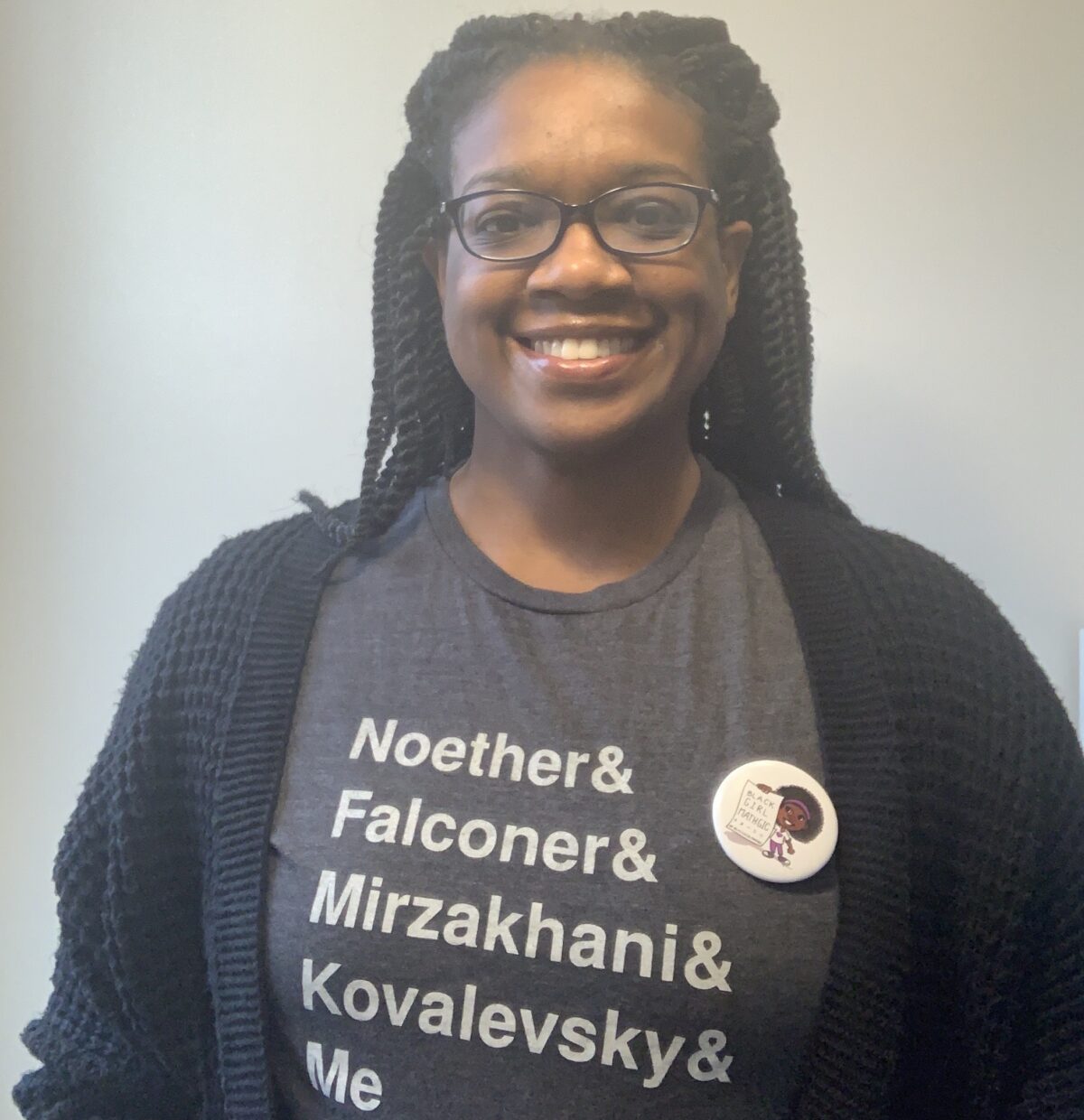 Shelby Wilson
Where are you from?
I moved around a lot as an Army child.  But I typically claim either Milledgeville, GA or Atlanta, GA as home.
Please describe an experience (or 2) that helped you discover/ cultivate your interest in the mathematical sciences.
One of my earliest memories of mathematics was in the 6th grade and having SUCH a hard time with the concept of subtracting from negative numbers.  I just couldn't understand why -3-2 = -5.  My math teacher, Mrs. DeBerry spent weeks going back and forth with me. Trying everything in her tool-belt to try to get me to understand why mathematics worked in this way.  This was the first time that someone engaged with me in "mathematical debate".  It was professional, courteous, and respectful.  Now that my professional life involves LOTS of "mathematical debates", I've come to appreciate what it meant for a teacher to take the time (and have the patience) to truly address my concerns/skepticism.
What is/are your most proud accomplishment(s) in regards to your career in the mathematical sciences?
By far, my most proud accomplishment in my mathematical career was giving the Etta Z. Falconer Lecture at Spelman College in Spring 2019.  Spelman is my beloved alma mater and Etta Falconer is my grandmother (and was a mathematician).  Feeling like I had fulfilled her dream of forging the path for black women mathematicians was a feeling of generational accomplishment.  I'm so proud to have been able to represent the fruits of her life-long work.
What is/are your most proud accomplishment(s) in regards to your personal life?
I'm most proud to be a part of my family.  This includes my immediate family (son, daughter, and husband), but also my extended family.  I'm proud to be in a LARGE family of cousins, aunts, uncles, play cousins, play aunties, etc who I love very much and who have supported me on my journey.  I'm proud to love and support them as well.
Please share some words of wisdom/inspiration.
Like life, lots of aspects of mathematics are scary and intimidating….  Do your best to learn how to manage the fear.  The fear is very real, but also has NOTHING to do with your ability to succeed in this discipline.  In short, do your best to not let intimidation stop you.