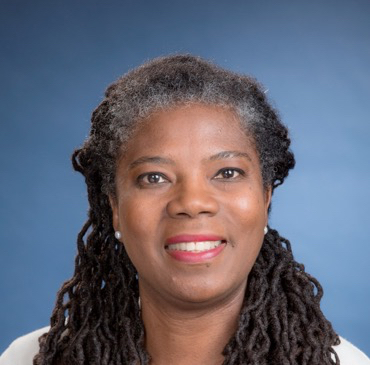 Suzanne L. Weekes
I was born and raised in Trinidad, a Caribbean island just off the coast of South America. I always enjoyed mathematics and as I went through high school, I chose to focus on mathematics and the sciences though I also liked the languages and literature. When I say that I enjoyed math, I don't mean that I was one of those kids who delighted in adding and multiplying any numbers that I came across or who memorized many digits of pi (what comes after 3.14?), or who liked to participate in quick-fire math contests. What I mean is that I enjoyed the creativity, the logic, the reasoning and the truth that is mathematics.
The encouragement and support of my teachers and parents was so important. For example, I remember one of my math teachers in high school taking me aside one day and showing me a magazine or newspaper clipping with an article about this thing called actuarial sciences which could be another option for me aside from the usual suggestions of becoming an engineer or physician. Well, I never pursued actuarial sciences but I did indeed continue studying mathematics. I recall this conversation because it has always served to remind me that just a few minutes and a few one-on-one words of encouragement can have a great positive impact on a student.
I came to the U. S. for college and majored in Mathematics and minored in Computer Science at Indiana University. I moved on to graduate school knowing that I wanted to do math that had direct applications to real-world problems so at The University of Michigan I pursued and earned a PhD in Mathematics and Scientific Computing.
I am now a Professor of Mathematical Sciences at Worcester Polytechnic Institute where we do hands-on, brains-on project work with our students. I enjoy connecting our wider mathematical sciences community with the work that is done in industry through initiatives of our Center for Industrial Mathematics and Statistics.
I am a co-director of the Preparation for Industrial Careers in Mathematical Sciences (PIC Math) which helps faculty all over the U. S. to engage their own students with industrial math research.
I am especially proud to be a founding co-director of the Mathematical Sciences Research Institute Undergraduate Program (MSRI-UP) which is a comprehensive program for undergraduates that aims to increase the number of students from underrepresented groups in mathematics graduate programs by providing research opportunities, long-term support, and mentorship. In the 10 years of MSRI-UP, we have worked with 169 students, 85.3% who are African Americans, Native Americans, and Latinos, and of the 145 MSRI-UP alumni who have completed their undergraduate degrees already, 114 have continued to graduate programs and 15 have already received Ph.Ds.
I have two wonderful daughters who keep my heart full and who are game for the adventures that my husband and I take them – whether it's a summer in California for MSRI-UP or a year in Panama for a Fulbright award.
WORDS OF WISDOM:
Show up – take advantages of opportunities that are offered to you;
Sit up front – be engaged, be involved;
Raise your hand – never be afraid to ask questions, to answer, and to learn. Be an active participant in your experiences.
"You are a child of the universe no less than the trees and the stars; you have a right to be here."