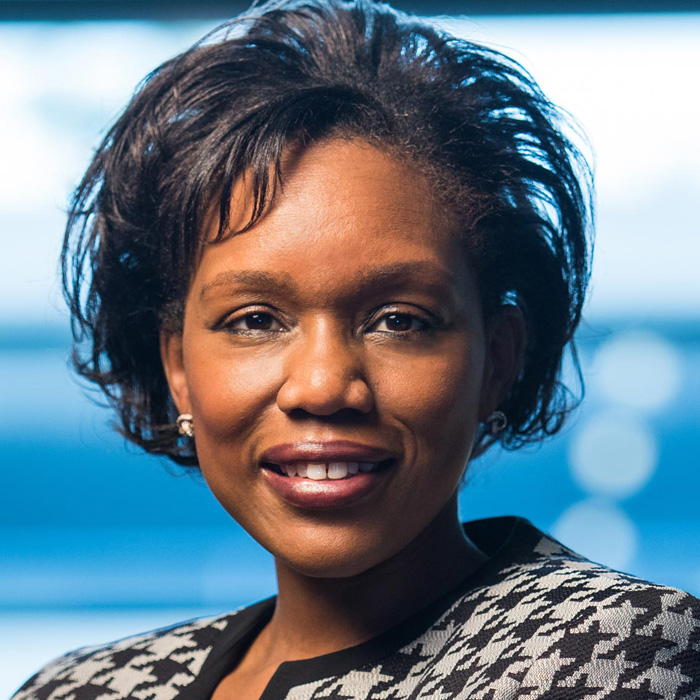 Trachette Jackson
Background: Where are you from?
I call Arizona my home, even though I was not born there. My father was in the US Air Force, which meant a very nomadic life for me as a child. I was born in Monroe, Louisiana and moved to a new state (or country) every two years. When I was 12 years old, we settled down in my 'hometown' of Mesa, AZ.
An experience (or 2) that helped you discover/ cultivate your interest in the mathematical sciences.
I went to Mesa High School from 1987 – 1990. I took all of the College Preparatory and Advanced Placement courses and graduated as a member of the Academic Top 20 (the students with the top 20 GPA's in the graduating class, in 1990 I believe there were over 800 graduating seniors).
The summer after my junior year of high school, I attended the Math-Science Honors Program (now part of the SUMS Institute) at Arizona State University (ASU). The Math-Science Honors Program began in 1985 when Dr. Joaquin Bustoz, Professor of Mathematics at (ASU), brought 32 underrepresented minority students from Phoenix-area high schools to the ASU Tempe campus. These students were immersed in an intensive, course based, living-learning community experience in mathematics.
His goals were:
To increase access, persistence, and success of students who are underrepresented in the mathematical sciences and to provide HS students a safe and successful university experience where they would be exposed to college campus life as well as innovative mathematics and science curriculum and coursework.
Contrary to a once popular opinion, Dr. Bustoz believed that a natural ability in math would only get you so far. The philosophy of the MSHP has always been that success in mathematics is predicated on discipline and hard work. Throughout its tenure, the MSHP has done a tremendous job in motivating some of the most creative minds of the new generation of future mathematicians, scientists and engineers and has created a statewide and national community of future scholars. As of the summer of 2015, 2,653 students have participated in the MSHP.
I am so proud to be counted in that number. I entered the program in the summer of 1989, as a part of the 5th cohort. At 15 years old, I was nothing like the person I am today. But that's when I first met and came to know Joaquin Bustoz, the person that created the program to which I owe my mathematical career. Dr. Bustoz and the MSPH extended an "Invitation to join the discipline". This was critical. I didn't know that I was welcome or wanted until I was, for the very first time, encouraged to embrace the discipline. The MSHP gave the confidence to believe that I could contribute to the field of mathematics. The program taught me about commitment, self-discipline, and perseverance. It also helped me become familiar with the "hidden curriculum" that those of us who aren't "to the manor born" academically would have no way of knowing about.
Most proud accomplishment(s) in regards to your career in the mathematical sciences.
Contribution to science:
Mathematical and computational modeling approaches have been applied to every aspect of tumor growth from mutation acquisition and tumorigenesis to metastasis and treatment response. My research focuses on developing mathematical approaches that are able to address critical questions associated with tumor initiation, angiogenesis and vascular tumor growth. Together with my collaborators, I developed a suite of cell-based models of tumor-induced angiogenesis that are capable of demonstrating how growth factors, differential cell proliferation, and inhomogeneities in the extravascular tissue change vessel morphology and lead to branching and anastomosis as emergent properties of developing vascular sprouts. With an eye toward addressing challenges associated with targeted molecular therapeutics, my collaborators and I have also developed a series of mathematical models that connect the molecular events associated with VEGFR2 dimerization and intracellular signaling with the temporal changes in endothelial cell proliferation, migration and survival, and links these dynamics to tumor growth, vascular composition, and therapeutic outcome. I have also published several mathematical models of the cancer stem cell driven tumor growth that include both extrinsic and intrinsic chemical signaling and interaction with the niche to control stem cell self-renewal.
Contribution to STEM education:
As an educator, I co-founded the Mathematical Biology Research Group (MBRG) at the University of Michigan, which is a campus wide initiative to foster interdisciplinary research at the interface of Mathematics and Biology. I also was the co-PI of the NSF-funded UM SUBMERGE (Supplying Undergraduate Biology and Mathematics Education and Research Group Experiences) program, which merges the subjects of mathematics and biology for undergraduate students in three important and unique ways: i) direct involvement in interdisciplinary research at the interface of biology and mathematics, ii) exposure to experimental biology within mathematical modeling courses and exposure to quantitative analysis in biology courses, and iii) regular mentoring by teams of faculty researchers in each field. For my efforts in undergraduate education, I received the Amoco Faculty Teaching Award. I am also spearheading a new Applied and Interdisciplinary Mathematics Bridge to the Ph.D. program at the University of Michigan in order to address the national challenge of educating and training a diverse scientific workforce capable of unifying the fields of mathematics and the natural sciences. The long-term goal of the Bridge program is to impart on the next generation of under-represented minority (URM) scholars the foundation of skills required to combine a deep knowledge of applied science with the mathematical, computational, and physical sophistication needed to address the increasingly complex problems that are on the international horizon and to become leaders in the world-wide scientific community.
Most proud accomplishment(s) in regards to your personal life.
In my personal life, I am most proud of being a wife and a mother. My two sons are the very best parts of me and I consider their growth and development into strong, educated, and humble young men to be my greatest achievement.
Any words of wisdom/inspiration.
My advice to young people today is to move confidently in the direction of your dreams. You are in control and if you are willing to work hard, no dream is out of your reach.