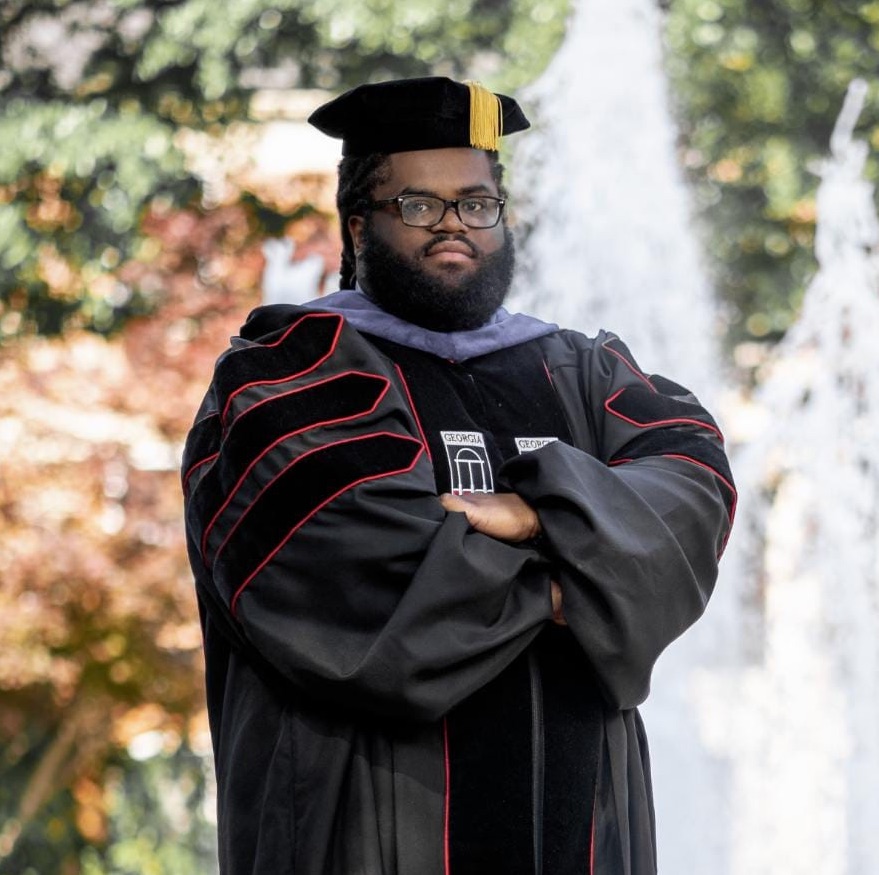 Zerotti Woods
Where are you from?
Atlanta, Georgia
Please describe an experience (or 2) that helped you discover/ cultivate your interest in the mathematical sciences.
When I was an undergraduate, I scored the highest grade in my real analysis class. This class was notoriously hard not only because of the material but because of the professor teaching it, my soon to be mentor, Dr. Duane Cooper. The class was so hard that after it was over, the people that ended the course with me decided that we did not just pass real analysis, we "pledged Cooper Reals Fall 12′. That was one of the hardest classes that I had ever taken and probably the beginning of my decision to pursue a Ph.D.
One experience that helped me cultivate my love for mathematics happened in my undergraduate number theory class. I struggled tremendously in this course. There were many times when I wanted to drop the course but my professor and also another mentor, Dr. Ulrica Wilson, would not let me quit. I have struggled in my mathematics courses before, but this was the first time that I was not at the top of my class even though I was giving my all. This class gave me a glimpse of some of the things that I would experience in graduate school. It made me ok with struggling with hard mathematics, which was vital in my Ph.D. journey.
What is/are your most proud accomplishment(s) in regards to your career in the mathematical sciences?
One of the happiest moments in my life occurred on April 11, 2019. This was the day I defended my Ph.D. in Mathematics from the University of Georgia. The five years that preceded that day were filled with hard work, dedication, successes, and sometimes failures as well. This was the day that my advisor first called me Dr. Woods, which was, in my opinion, his way of promoting me as his peer, and giving me his approval to end that chapter of my life and begin another.
This day was also special to me because of the journey that I traveled to get there. I was by no means a typical student. I was always naturally good in mathematics, but I was not a good mathematics student. I grew up in the inner city of Atlanta, Georgia, where being the smart kid was not always the cool thing to be. I was also a first-generation college kid, as well.
When I began my undergraduate journey at Morehouse College, I remember that I was "smart enough" to be there, the problem was that I was not mature enough, and had not decided that I would put my all into my studies. In 2010 I was dismissed from Morehouse because I had only half the credits that I was supposed to have, and I held a GPA that was under 1.0. One thing that always stuck with me was the frustration that my mathematics professors had with me because they saw that I was very capable of succeeding in my studies, but I never decided to give my all.
The year that I was dismissed from Morehouse was the time that I needed to determine that completing my undergraduate journey would be one of the most critical steps that I would take in my life. With the help of the same mathematics professors who failed me just a year prior, I was admitted back into Morehouse. This time I maintained a GPA of over 3.5 each semester. My professor and mentor, Dr. Duane Cooper, came to me and told me I should get a Ph.D. I only considered it because, as a result of the close mentoring and the love that he showed me, I wanted to be just like him.
After I was admitted to UGA, my department did not expect much from me. In my very first year, some faculty members even told me that it was likely that I would not finish the program. Because of the mentorship that I received from my professors at Morehouse, I used this doubt as fuel. On April 11, 2019, that fuel pushed me to become the fourth African American (I share this position with my great friend Lori Watson) to receive a Ph.D. in mathematics from the University of Georgia. As I looked in the audience of my talk, those same mentors that helped me get to that point, made the drive to Athens, Georgia, to watch me complete that journey. That day was incredible, and to add just a little more sweetener, it was the day after my mother's birthday. I never seen her so proud of me, and she bragged about me to every person that would listen. I will always remember the way that made me feel.
What is/are your most proud accomplishment(s) in regards to your personal life?
My most proud personal life accomplishments are the good influences that I have had on many children that look like me. Many of my young nieces, nephews, cousins, and other young kids call on me for advice, and some even look at me as the cool smart guy. Nothing makes me smile more than when they call me from their cell phones and want to talk about everything from how their day went, to some hard mathematical problem that they want my help with solving.
Please share some words of wisdom/inspiration.
Seek out mentors and become a mentor as well — many of my mentors saw things in me that I did not see in myself. Every mentee may not share all of your same interests, but cultivating their interests may be the key to their next steps. Also, the best journeys are traveled on the toughest roads. Do not shy away from a difficult journey. Trust in your self, and you will find that you are stronger than that journey that you think is too hard.